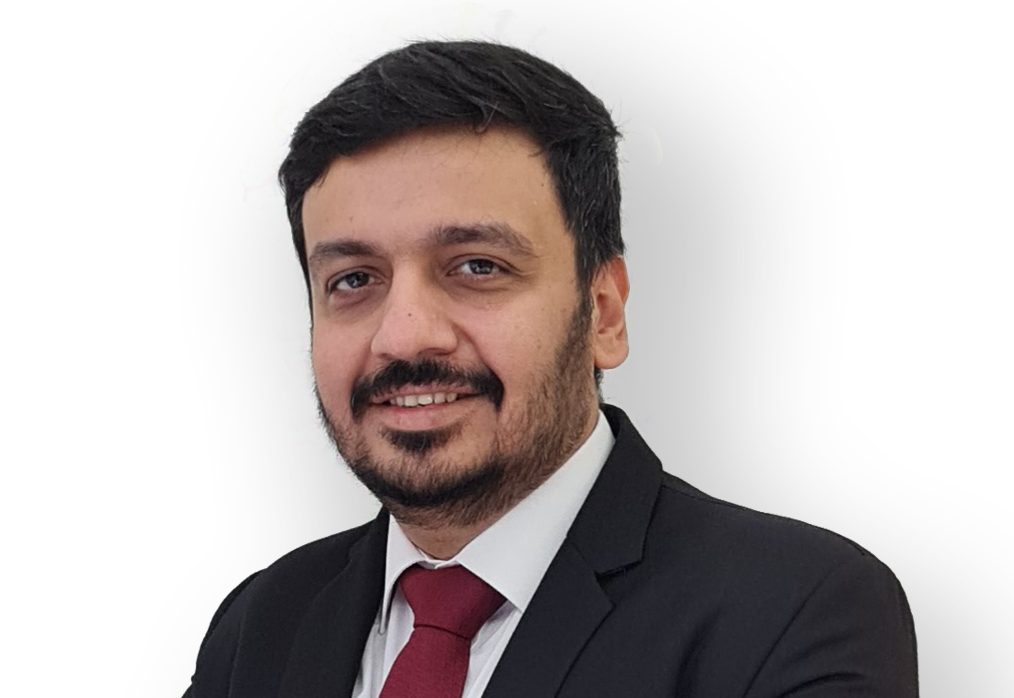 Bhoumick Vaidya is a Partner in the Firm's General Corporate practice. He specialises in real estate and property law, areas of corporate law, primarily focusing on title diligence, title acquisitions, private equity transactions and debt transactions.
Bhoumick has extensive experience in matters of property law and conveyance and has in depth understanding of law governing development and re-development of properties, land laws, law relating to townships, revenue code, rent law, property taxes, stamp duty and registration, etc. He has also dealt with various matters of commercial nature including laws related to contract, company, partnership and personal laws such as testamentary, trust and succession.
Bhoumick successfully handles and advises various clients including well known corporate houses, developers, esteemed banks/financial institutions, high profile real estate investors, and funds etc., in matters relating to acquisition of lands for development of commercial and residential properties, sale and purchase of commercial and residential premises, leases, leave and license, joint ventures and joint developments, development of integrated townships, slum rehabilitation projects, redevelopment of housing societies, acquisitions of special economic zones, Industrial Parks, acquisition of land belonging to City and Industrial Development Corporation, acquisition of land belonging to Maharashtra Housing and Area Development Authority, acquisition of land belonging to Maharashtra Industrial Development Corporation, hotel acquisition, development of real estate, etc.
His expertise also extends to appearing before Real Estate Regulatory Authority and Tribunal on behalf of developers and providing general advises.
Bhoumick has also advised various clients including financial institutions in respect of matters relating to Real Estate Companies under the Insolvency and Bankruptcy Code, 2016. His practice also covers general corporate transactions and advisory work.
Bhoumick has advised various non-banking financial institutions in relation to securities lending transactions and alternate investment funds in relation to debt funding transactions. He has also attained experience in acquisitions in the hospitality sector.
Bhoumick has also authored a commentary on the Real Estate (Regulation and Development) Act, 2016 along with the rules and regulations framed thereunder for Maharashtra and provided his short notes on the Development Control and Promotion Regulations for Greater Mumbai, 2034, both of which have been published and are available in the public domain.
Select Experience Statement
Tata Power Company Limited for redevelopment of their property situated in Mumbai.
Interglobe Hotels Private Limited for purchase of land in Thane for the purpose of constructing a Hotel thereon. This transaction included release of a subsisting mortgage simultaneously with the purchase of the land.
Birla Estates (part of Aditya Birla Group) on redevelopment of their properties in Mumbai.
Kotak Investment Advisors Limited for conducting the due-diligence and investing in project being developed by Bharat Infrastructure and Engineering Private Limited in Mumbai, Bengal Shriram Group in Kolkata and Jaipur Dream Buildcon Private Limited in Jaipur.
Kotak Investments Limited and Kotak Mahindra Bank for lending in project being developed by Sheth Developers in Mumbai.
Various other private equity funds and NBFCs including CapitaLand Limited, Brookfield, Kotak Realty Fund, Xander Finance, CapriGLobal, Motilal Oswal, Aditya Birla and India Infoline on investigation of title and providing title reports for investments / proposed investments in various projects.
Several developers including Birla Estates, Sunteck Realty Limited, Ruby Mills Limited and representing them before the Maharashtra Real Estate Regulatory Authority, the Maharashtra Real Estate Appellate Tribunal and High Court of Bombay.
Promoters of Matheran Ropeway Private Limited for sale of interest to Tata Group in the proposed ropeway project from Nerul to Matheran.
Promoters of a leading restaurant chain to initially acquire the balance minority stake in the Company and subsequent sale of entire business.
Promoters of a top paint company, power company and pharmaceutical company and provided advise on:

Structuring the Estate;
Drafting and finalising Wills and Gift Deeds; and
Drafting and Finalising Trust Deeds (including discretionary and non-discretionary trusts)
Professional Memberships
Solicitor – Bombay Incorporated Law Society (2009)
Solicitor – College of Law, London & Wales (2009)
Advocate – Bar Council of Maharashtra and Goa (2007)
Education
B.L.S, LL.B., Solicitor Bombay and UK