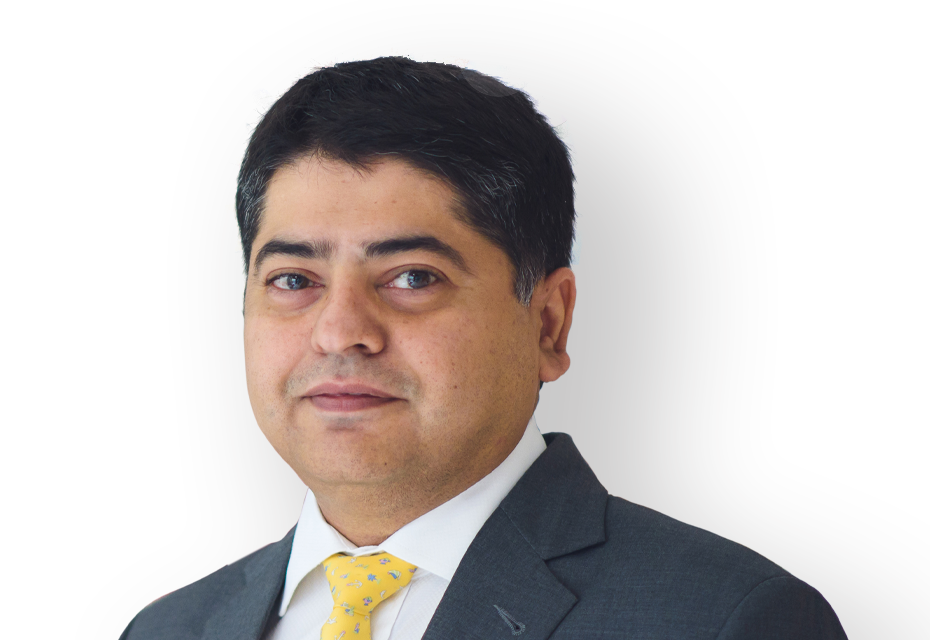 Mrinal Kumar is a Partner with the Firm  and specialises in areas of General Corporate, Retail & Real Estate.
Mrinal has worked extensively on the real estate practice area. He has advised on structuring M&A, Private Equity transactions; advised on foreign direct investment laws, land acquisition, local land laws in various states across India, commercial leasing, settling and negotiating the transaction documents for large domestic and international clients.
He has been involved in providing advisory services to Sumitomo Corporation on development of a residential complex on a joint venture model and on various issues related to foreign direct investments. He has advised Walmart India on setting up Cash and Carry Stores on pan India basis.    He has also advised Global Health Private Limited (Medanta) on sale of securities to Temasek and Carlyle in the Gurgaon Project and advised on setting up of a 1000 bedded super specialty hospital in the State of Uttar Pradesh. Another prominent matter was the advisory to Bharti Land Limited in development of high-end smart homes in NCR. He has advised Jindal Realty Private Limited on various issues related to development of their integrated township at Sonepat and Kurukshetra.
Mrinal has been advising Government of India, Ministry of Housing & Urban Poverty Alleviation on various legislations (i) The Real Estate (Regulation & Development) Bill, 2011, (ii) The Model Tenancy Act, 2015 (iii) Draft Model Contract for PPP in Housing Sector.
Select Experience Statement
Reall UK on the structuring and other aspects regarding setting up of presence in India in affordable housing.
Reliance Industries Limited on the real estate related aspects of the acquisition of the retail business of the Future Group through its group company.
Invest India, a National Investment Promotion and Facilitation Agency, on regulatory compliances for investment in and setting up of commercial real estate projects across several States in India.
Signify Innovations India Private Limited, earlier known as Philips Lighting, on the sale of its factory in Mohali, Punjab.
Fresenius Medical Care India Private Limited on leasing of their office premises at Gurugram, Haryana.
Samsung Display in relation to acquisition of asset in Noida for setting up their manufacturing facility.
Read More+
One of the largest Japanese groups on its investment in a commercial project in Bengaluru.
Instakart Services Private Limited, a Flipkart Group company, on preparation of a bid for appointment of a contractor for civil works for its warehouses;
Kubota Corporation in relation to leasing of a factory to its joint venture with Escorts Limited to manufacture tractors in India.
Brookfield in relation to acquisition of assets of Unitech Group.
American Express India Private Limited on acquisition of land and setting up of a campus in NCR.
Bharti Realty Limited on development and management of a residential project in NCR.
DLF Limited on Design & Architect agreements.
OYO Group on acquisition of 5 star hotel.
Mangalam Multiplex Private on agreements with Birla Estates for a joint development of a group housing project in Gurugram.
Read Less-
Foreign Direct Investment in Real Estate Sector
Infrastructure Leasing & Financial Services Ltd. (IL&FS) on development of a Model Economic Township on 7000 acres of land in Haryana.
Sun Forestcity on development of Service Apartments.
Read More+
Hiranandani Group on structuring Foreign Direct Investment in various real estate projects.
Signature Asset Management Company Ltd, Dubai for investments in Integrated Township of 400 acres in Ghaziabad.
Bharti Reality on FDI in their mixed use development in Punjab.
Read Less-
Development of SEZ's, Commercial Premises and Integrated Township
Tata Realty & Infrastructure Limited on acquisition of SEZ in NCR.
Unitech Limited on leasing of an area of 9,00,000 sq. ft. in SEZ.
Bharti Realty on structuring and regulatory issues for the development of SEZ in Gurgaon.
Read More+
ASF Infrastructure on acquisition of land and regulatory compliances for setting up of SEZ in Gurgaon
Godrej Properties Limited for Co- development of Information Technology Special Economic Zone, Greater Noida and also advised on development of commercial space in Chandigarh.
Read Less-
Others
Tata Realty and Infrastructure Limited and Standard Chartered Real Estate Investment (Singapore) VII Private Limited in relation to the purchase of 100% of the equity shareholding of Mikado Realtors Private Limited from the Seller.
Karamchand Group in relation to the loan facility for setting up residential and commercial premises.
Read More+
Gajraj Commercial Private Limited on the loan facility arrangement for the township and commercial complex.
Tata Housing Development Corporation on acquisition and development of their two group housing complexes in Gurgaon.
OYO Group on acquisition of 5 star hotels.
Read Less-
A detailed experience statement can be shared on a confidential basis.
Professional Memberships
Delhi High Court Bar Association
Education
B.S.L. LL.B, (Hons), Symbiosis Law College, Pune (University of Pune)