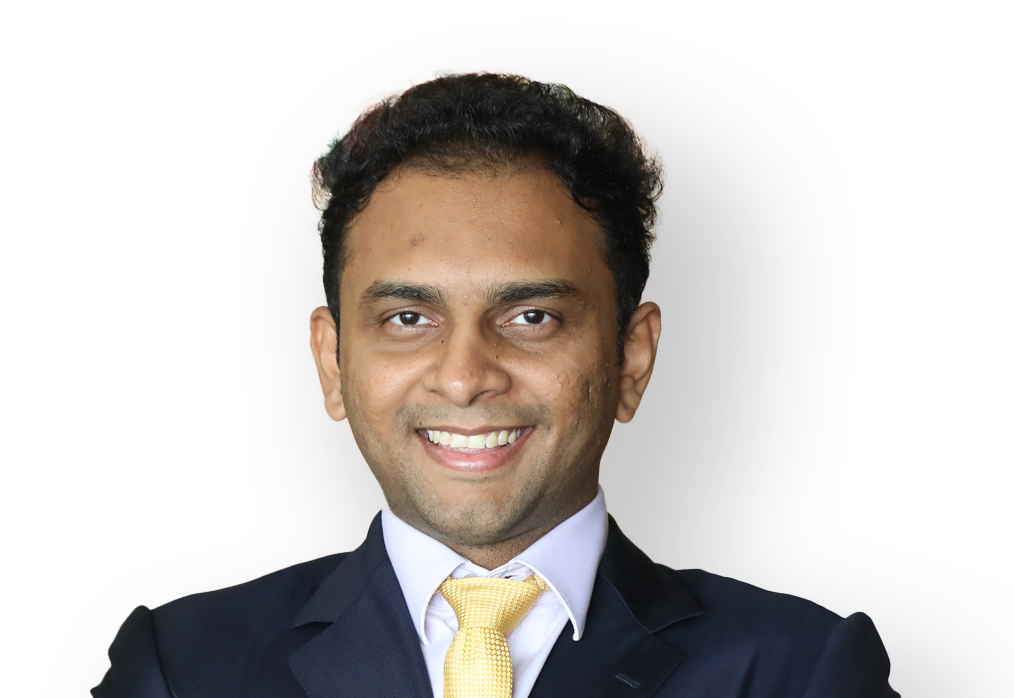 Kaustubh is an India-qualified corporate lawyer specializing in private equity (PE) and private M&A.
He has around 9 years' experience in advising blue chip financial sponsors (including global PE/ buyout funds, sovereign wealth funds), multinational corporations and Indian businesses on buyouts, investments, strategic acquisitions, corporate restructurings, exits and joint ventures, with a focus on cross border transactions. His deal portfolio covers several key sectors including Healthcare, Tech, Real Estate, Manufacturing, Financial Services, Retail Trading (including E-Commerce), Digital Media, Information Services, Electric Vehicles and Defence.
Kaustubh advises and leads on all aspects of deals including regulatory structuring, due diligence, drafting transaction documents (including complex and innovative structures involving completion date accounts, holdbacks, deferred consideration, representations and warranties insurance, escrows, post-closing working capital and net debt adjustments), negotiations and closing. He works closely with offshore counsel, anti-trust counsel and tax advisors. He also has expertise in advising on corporate governance matters, board and shareholder disputes, and deal-related regulatory issues particularly those involving India's foreign investment regulations and interactions with Indian regulatory bodies.
Select Experience Statement
Advised Baring Private Equity on its acquisition of a controlling stake in CitiusTech Healthcare, a tech unicorn and one of India's largest healthcare technology service providers.
Advised The Carlyle Group on various transactions in India including (a) the sale of its controlling stake in a major coding solutions provider in India, and (b) its proposed investment in a technology platform company.
Advised Temasek Holdings in relation to a number of acquisitions and investments made by it in India, particularly in the healthcare sector including its significant minority investment in Dr. Agarwal Eye Hospitals.
Advised Affirma Capital (formerly Standard Chartered PE) on its investment in Prodapt Solutions, India, a specialized IT services company serving global digital services providers.
Currently advising Prologis Inc., a listed US corporation and one of the world's largest logistics companies on its entry into India, proposed acquisition of real estate assets in India, and the establishment of joint ventures with major Indian real estate developers for the establishment of warehouses and other assets across India.
Read More+
Currently advising Gaw Capital, a marquee private equity sponsor based in Asia, on its proposed joint venture with a prominent Mumbai-based developer for the construction and development of data centres in India.
Advised Greaves Electric Mobility Private Limited (a company involved in the business of development, manufacturing and marketing of fully assembled electric two-wheelers and electric three-wheelers for personal mobility), a subsidiary of Greaves Cotton Limited (a listed company) along with the company's promoters in relation to a significant investment in the company by Abdul Latif Jameel International DMCC.
Currently advising Gencom, a US based corporation that acquires hotel assets globally, on its proposed acquisition of a significant minority stake in a prominent hotel chain in India.
Advised Varmora Granito Private Limited (a tile and bathware company) and its founders in relation to an investment by The Carlyle Group for a significant minority stake in the company.
Advised Reliance Retail Ventures Limited in relation to its acquisition of a majority stake (by way of primary and secondary investment) in Purple Panda Fashions Private Limited (a company involved in the business of manufacturing and sale of women-wear under the brand name "Clovia®").
Advised EnSilica PLC UK (a leading fabless design house focussed on custom ASIC design and supply for OEMs and system houses) on Indian law aspects in relation to its listing on the London Stock Exchange AIM.
Advised Paymate India Limited (a digital business-to-business (B2B) payment solutions provider) on various corporate / M&A / PE matters leading up to the potential initial public offering proposed to be made by it on Indian stock exchanges.
Advised JK Paper Limited on its acquisition of Horizon Packs Private Limited and Securipax Packaging Private Limited. The target entities are India's largest corrugated packaging manufacturers, and the deal was the largest in this sector till date in India.
Advised NTT Data (Japan) on the sale of the India business of NTT Data Insurance Systems (NDFS) to Vela Software Group, a subsidiary of Constellation Software Inc., as a strategic business transfer. NDFS is the global insurance solutions arm of NTT Data and is focused on providing software applications and IT services to different insurance clients.
Advised the trustees of a prominent hospital situated in South Mumbai, in relation to the proposed acquisition of the hospital by a leading healthcare chain situated in South East Asia.
Advised LIXIL Corporation (GROHE, American Standard, etc.), Japan, in its acquisition of Sentini Sanitaryware Private Limited, which one of the flagship units of LIXIL's manufacturing operations in India.
Advised Tiffany & Co in connection with its entry into India and the establishment of its Indian joint venture with Reliance Brands.
Advised Manipal Hospitals, one of India's largest hospital chains, its promoters and True North on the equity investment by a prominent South East Asian sovereign wealth fund and the exit by True North.
Advised Tata Sons on the proposed restructuring and consolidation of the defence business of the Tata Group, involving the Tata Group's defence businesses housed under Tata Motors, Tata Power and Tata Advanced Systems.
Advised Tata Sons and the Tata Trusts on several key matters on corporate governance and restructuring of shareholder rights.
Advised Fung Investments on its investment in ShopX, a B2B e-commerce platform in India.
Advised a US-based private equity fund on its partial exit, by way of a sale of shares, from National Stock Exchange of India, to various Indian and foreign buyers.
Advised Taikisha Ltd. (Japan) on its acquisition of a controlling stake in Nicomac Clean Rooms (India), an entity engaged in the design, installation and manufacture of clean room panels.
Advised Amicus Capital, an India-based private equity fund on its investment in Capital Small Finance Bank, a small finance bank licensed by the Reserve Bank of India.
Advised Tridevi Capital, a UK based private equity fund, on its investment in Prabha Energy, a subsidiary of Indian oil and gas exploration major, Deep Industries Limited.
Advised Dun & Bradstreet Holdings Inc., a global provider of business decisioning data and analytics services, on its strategic acquisition of the Eyeota Group, which globally operates audience technology platforms, on Indian law aspects in relation to its India business.
Read Less-
A detailed experience statement can be shared on a confidential basis.
Professional Memberships
Bar Council of India (2013)
Education
B.A. LL.B. (Hons.) from the National Law Institute University, Bhopal, India (2013)
Master of Corporate Laws (MCL) from the University of Cambridge (2021)