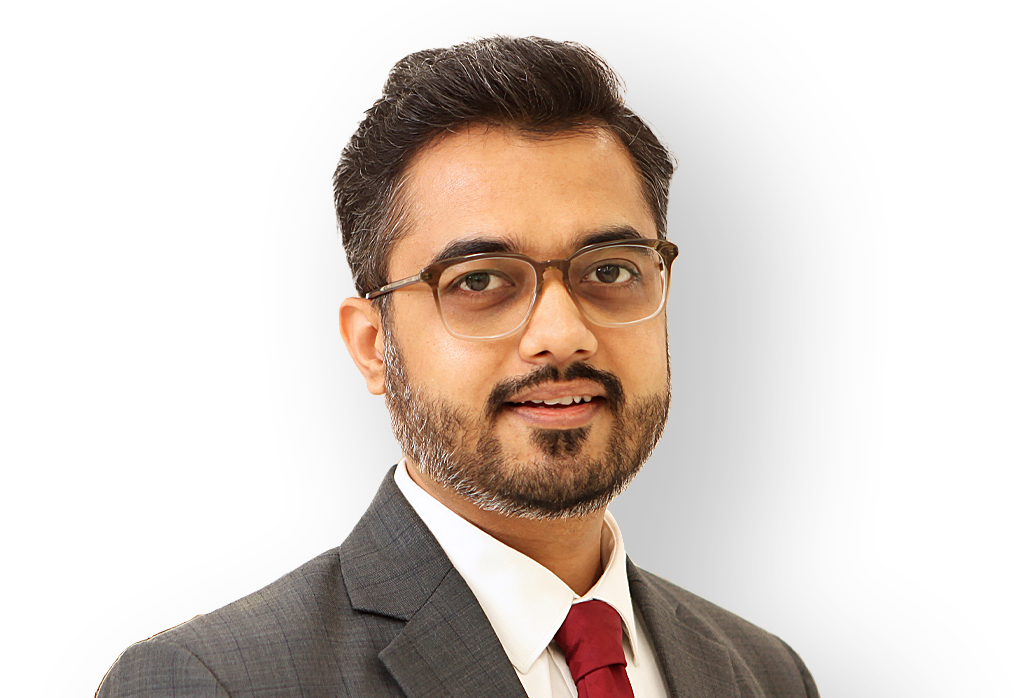 Abhishek Dubey is a Partner with Shardul Amarchand Mangaldas and specializes in Mergers & Acquisitions, Private Equity Investments, Joint Ventures and General Corporate
Abhishek has over 14 years of post-qualification experience. He is a skilled negotiator & a solution-oriented counsel with excellent drafting & persuasion skills.
M&A, PE & VC Transactions: Abhishek is an expert transactional counsel and has led a team of lawyers in several M&A, PE & VC transactions. He has led diligences and investment transactions in various sectors which has given him deep knowledge of laws governing sectors such as e-commerce, technology, fintech, multi-brand, single brand and wholesale retail, manufacturing, telecom, pharma, education, real estate, and oil & gas.
General Corporate & Restructuring: Abhishek regularly issues legal opinions & solutions on complex matters of company laws, restructuring, FDI regulations, ecommerce & retail, payments & wallets, digital lending, gaming, InsurTech, data privacy, employment, intellectual property licencing & trademark infringement. Abhishek has extensively advised new age ecommerce and technology companies on setting up their businesses and launching their innovative products and services in India from the ground up. He has acted as an external general counsel to companies in managing their M&A, contracts, litigation and intellectual property matters.
Compliance & Regulatory: Abhishek is experienced in managing compliances for Companies, Trusts & Limited Liability Partnerships. He has supervised and handled compliances, policies and procedures under the Companies Act, SEBI laws, LLP Act, FEMA laws, Labour & Employment laws, Privacy Regulations, Intellectual Property Laws & Municipals laws. He has also liaised with prominent regulatory bodies such as the Reserve Bank of India, Ministry of Finance, Ministry of Commerce & Industry, and Department of Telecom, Government of India.
Abhishek has studied a course on European public law from the European Public Law Organization, Athens on scholarship from the European Union. He is also a recipient of International Bar Association's Corporate Law Award, Microsoft Intellectual Property Scholarship and Indian Space Research Organization (ISRO) Scholarship.
Select Experience Statement
Private Equity Transactional Experience
Represented Omidyar Networks in its partial exit from VerSe Innovation (runs short video app Josh) by sale of shares to CPPIB, Luxor Capital, Trifecta and others.
Represented Lightrock & Aspada in their investment (Series E) in agritech firm Arya Collateral.
Represented Kaiser Permanente in its investment (Series D) in online used car marketplace Spinny alongside Tiger Global, Growth Catalyst & Avenir Growth.
Read More+
Represented SaaS start-up Whatfix in its USD 90mn fund raise (Series D) from Softbank, Sequoia, Dragoneer, Eight Roads and F Prime Capital.
Represented Olympus Capital, ResponsAbility, Triodos Capital, Lok Capital and Aavishkaar Capital in their pre-IPO investment in Utkarsh Small Finance Bank.
Comprehensive advise to a fund in structuring its lending transactions through an NBFC, and their venture debt investments through an AIF. Drafted various documents to implement the loan and venture debt transactions.
Represented Times Internet in its exit from Myrameds (online pharmacy) by share swap into Medlife.
Advised Times Internet in its exit from Medlife by share swap into Pharmeasy.
Represented India Financial Inclusion Fund in its exit from Jana Small Finance Bank to Hero Venture Partners.
Represented OnsiteGo in its fundraise from IFC (Series B1). Onsite provides extended warranty and AMC services on electronics and appliances.
Represented OnsiteGo in its fundraise from Zodius and Accel (Series B).
Represented SIG Global in its Series C investment in shared mobility company Shuttl.
Represented Mettl and its Founders in strategic sale of Mettl to Mercer (of Marsh & McLennan Companies). Involved exit of Founders, Kalaari & Blume.
Advised Unilazer Ventures, Malabar Investments and Steadview Capital on their investment Neuland Pharma.
Advised Enrich Salon & its Founders in majority acquisition by Westbridge Capital. Involved exit of JM Financial.
Represented GIC, Singapore in exit from hyper-local e-commerce companies Nearbuy & Little by share swap with PayTM. Involved exits of SAIF and GIC by way of share swap.
Represented Rivigo in its Series C fund raise from Warburg Pincus and SAIF.
Read Less-
M&A Transactional Experience
Represented Times Internet in its sale of Dineout business to Swiggy.
Represented Sanzyme in its sale of pharmaceutical assets to KKR controlled publicly listed JB Chemicals & Pharmaceuticals for USD 85mn.
Represented publicly listed Newgen Software in its acquisition of AI/ML firm Number Theory.
Represented Powergrid Corporation of India in acquisition of 100% of Jaypee Powergrid Limited by from JPVL.
Read More+
Advised Powergrid Corporation of India in hiving off its telecom business in light of Supreme Court's AGR dues order.
Acquisition of GuidingTech (social media assets & YouTube channel) by Padre Media, USA.
Advised Amazon on foreign investment & structuring for its entry into India and on acquisition of ecommerce businesses.
Involved in acquisition of Flipkart by Walmart. Involved exit of Softbank, Tiger Global, Naspers etc.
Advised Lumax Auto in its proposed acquisition of OK Play. Both are publicly listed entities.
Advised Indian subsidiary of Fukoku Japan in acquiring plant and machinery of Alucast Auto under SARAESI route.
Represented SLV Securities & its founders in staggered acquisition by SiS Security (publicly listed entity).
Advised Minda Industries (publicly listed entity) in its acquisition of Rinder Corporation and its group companies in India, Spain & Colombia.
Advised Minda Industries in its joint venture with a Japanese battery manufacturer.
Advised Hero Cycles in its acquisition of premium bike maker Firefox Bikes.
Advised testing giant GMAC in its acquisition of NMAT Test from NMIMS. GMAC conducts GMAT worldwide.
Advised Government of West Bengal in its divestment of majority stake in Haldia Petrochemicals.
Advised Indian subsidiary of NYSE listed Jacobs Engineering Group Inc. in its staggered acquisition of CES India.
Advised RPM International Inc. in its acquisition of shares in, & subsequent public offer for, Kemrock Industries.
Represented Omnicom Group in its acquisition of Mudra Communications Limited (M&A Atlas "Corporate Deal of the Year – Middle Markets").
Represented Vesuvius Group in its bid to acquire stake of Tata Steel in Tata Refractories.
Advised Tech Mahindra Acquisition of Satyam Computers by Tech Mahindra (both listed entities) for $576 million.
Read Less-
General Corporate Advisory
Issuance of opinions, advice and drafting of contracts for ecommerce companies on matters relating to foreign investment, retail, InsurTech, data privacy, fintech and payments.
Advised Amazon for launch of its various products such as payments card, Kindle and Fire browser in India.
Comprehensive advice to Graduate Management Admission Council (GMAC) & Law School Admission Council (LSAC) in setting up their test delivery businesses in India, employment laws and data privacy laws.
Read More+
Comprehensive advisory to OnsiteGo in relation to its protection plans, extended warranty and AMC businesses.
Obtained single brand retail approvals from the Government of India for Fossil USA, and Villeroy & Boch AG, Germany.
Structuring advise to companies such as Amazon, Kering Group (Gucci), Myra Meds and Photosynthesis HK on retail and ecommerce regulations.
Obtained Government of India approval for Premiere Global, USA for its telecom conferencing license in India.
Represented Hero Motors, Minda Industries, Escorts Limited, Times Internet, LSAC, Inc. (USA), Industrias Barga (Spain), OSM Aviation (Norway) & Assystems (France) etc. on their joint venture transactions and general corporate, employment and aviation law related matters.
Provided advice and issued legal opinions on data privacy, fintech, employment matters including KMP contracts, pre-litigation contractual disputes, arbitration agreements, winding-up & insolvency matters under the Insolvency & Bankruptcy Code.
Supervised several real estate diligences for acquisition of industrial land, plants and factories in Maharashtra, Tamil Nadu, Haryana, Uttar Pradesh, Rajasthan, Uttarakhand, Telangana, and Andhra Pradesh.
Advised clients, issued legal notices and handled litigation on matters relating to trademark infringement, passing-off, copyright infringement, cybercrimes and impersonation.
Read Less-
A detailed experience statement can be shared on a confidential basis.
Professional Memberships
Education